HOW TO GET STARTED IN 5 SIMPLE STEPS
STEP 1
First of all, do what many student pilots forget to do: budget your trip!! This will limit your cost overruns!
Use the table on the page PROGRAMS & RATES to get a good estimate of the costs and expenses of your training, then budget for meals and other living expenses.
Remember, when hour building in the U.S., you have additional costs such as airline tickets and accommodation. But even if your entire hour building saves you only 1$ compared to flying at your local airport, it will be justified for you to fly with us, because you also take home a wealth of experience and self-confidence that may make a difference for you.
STEP 2
Read the FREQUENTLY ASKED QUESTIONS and ask any other questions by sending an e-mail with a subject including "hour building" to:
STEP 3
Fill in the aircraft renter's insurance forms Form page 1 & Form page 2 to request pre-approval from the insurance company. The fully filled forms, your pilot's license and your passport need to be scanned and e-mailed to the e-mail address info@ncb-aviation.com including the subject "insurance forms" and your name.
This pre-approval process lasts 4 weeks and is required for non-U.S. resident pilots.
NCB-AVIATION refuses to handle requests for pilots who do not submit the form at least 8 weeks prior to expected arrival date.
Caution!! Do not book your airline tickets until you have received pre-approval.
Following are recommended coverage limits and cost: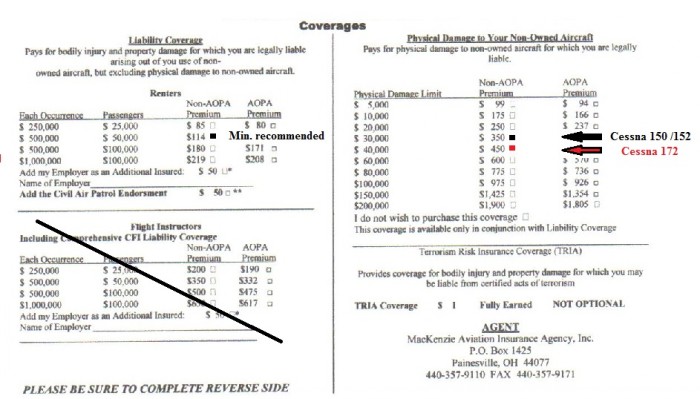 For non-US residents, the contracted insurance premiums are fully earned and not refundable.
For more information about the renter's insurance, visit the AOPA website
STEP 4
If you have a pilot's license issued by any other country than the U.S., you need the FAA (Federal Aviation Administration) to approve you to fly on U.S. registered aircraft. This process is called a license validation.
To request a FAA validation of your EASA/ICAO pilot's license, follow instructions on this sheet: FAA_validation.pdf
The form you need to fill can be found here:
http://www.faa.gov/licenses_certificates/airmen_certification/media/verify61-75.pdf
STEP 5
Start planning your trip but do not book airline tickets until you have received a positive answer from requests in STEPS 3 and 4.
Once you're set and you've got all your documents, send us the details of your flights, so we can arrange your pick-up at the airport in Cleveland.
Non-US residents travelling without a visa on a visa waiver program, will need to register with ESTA for immigration, an easy 10 minutes process.
Check here for travel elligibility on a visa waiver program, and the passport requirements applicable to your country.